The Dora Milaje are Wakanda's elite female royal warrior guard. Okoye is the general – the leader – of the Dora Milaje, and as such, she wears a unique costume to set her apart. There were 8 total Dora Milaje in Black Panther.

Regular Uniform
The Dora Milaje costume consists of these items, which are covered in more detail below:
Body Suit
Harness
Shoulder Armor
Neck & Arm Rings
Boots
Waist Cape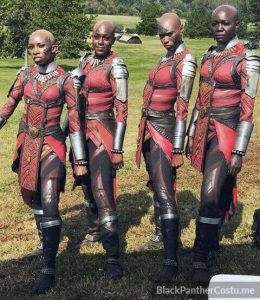 The Body Suit
The Dora Milaje body suit was likely made of the same 4-way stretch Euro jersey that the superhero suits were made of.
The suits appear to have been made in two parts (a leotard top and tights below), with various designs silk-screened onto them using stretchy, dimensional inks. Some of the triangular designs on the legs mirror the designs on T'Challa's new suit in the Black Panther.
The necklines of the suits were decorated with intricate bead work (all inspired by Himba, Maasai & Turkana tribes of Africa).
The suits zip up on the back, and appear to have had some Velcro panels to help secure the armor and bracelets in place.
Here's a stunt person practicing in just the body suit.
Cosplay Tips 👉
The Harness
The Dora Milaje leather harnesses were to look hand-tooled by the same craftsmen who made the Queen's outfits (but were actually made by craftsmen in South Africa).
The harnesses appear to be made of multiple pieces of leather, stitched together with large decorative stitches, and decorated with various square studs, some of which appear to be under the leather.
The harnesses covered the edges of the suit's bead work and fastened on the back. Okoye's harness appears to fasten with a zipper, while the other harness form a simple X on the back, where they were fastened together.
At hip level, the harnesses bore a buckle-type emblem, some in the shape of a panther's head.
The harnesses have 2 coat-tail tassets covering the rear hips, except for Okoye, who has one larger triangular coat tail.
The most eye-catching parts of the Dora Milaje harnesses are the tabards, which were decorated with intricate bead work and charms. The bead work was inspired by the Turkana tribe of Africa.
While most of the Dora Milaje have beaded rear tabards, Okoye instead has what looks like a simple suede leather tabard.
"The Dora Milaje wear tabards adorned with little talismans of protection. That's something I added to give each girl a signature on their piece. Most of them have an African symbol, or a piece of jade, or amethyst. Lupita [Nyong'o] wanted an alligator on hers. I felt like it could be a personal thing, or a family sigil. When a Dora can no longer fight, maybe she trains her daughter, or granddaughter, and passes it down to her." – Forbes
"I put little talismans on them, and you can see them in this picture. I felt like each girl could have something on her tabard that personalized it for her, and maybe represented the tribe that she came from: Some of them might have a fertility doll, a piece of amethyst, or a piece of jade." The jewelry also could convey a sort of military rank, which is why you might spy adornments on Okoye (Danai Gurira) in an early scene where she impales a villain. "You can see that she has jewelry draping down the front part of the skirt — she is truly a decorated general," said Carter." – Vulture
Cosplay Tips 👉
The Shoulder Armor
The Dora Milaje wore metallic laminar armor on their shoulders and upper arms.
To signify her leadership role, Okoye wore gold armor, while the rest of the Dora Milaje wore silver. The armor, like seemingly any other metallic object in Wakanda, was supposed to be made of vibranium.
Director Ryan Coogler reportedly requested that the armor look like jewelry (check out the Black Panther's jeweler's website HERE).
The armor attached to the harness at the top, and with leather bands around the arms.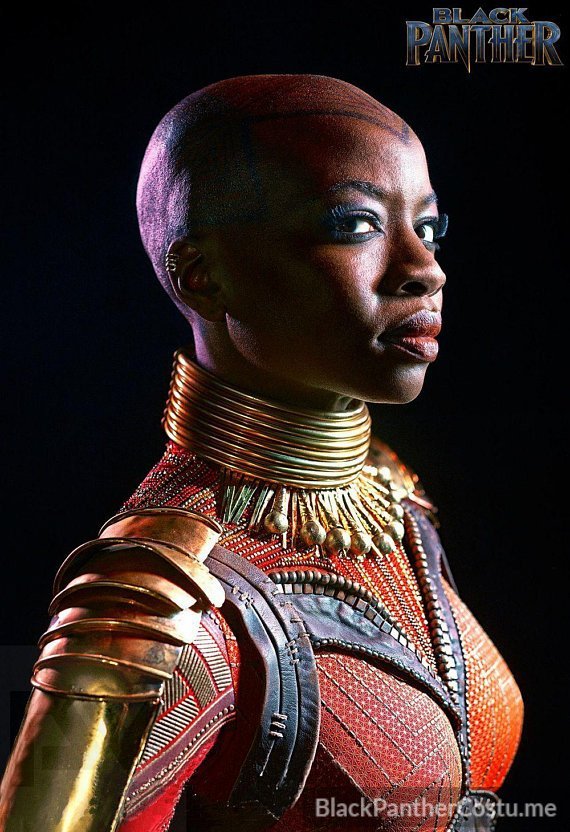 Cosplay Tips 👉
The Neck & Arm Rings
The uniform's neck embellishments consisted of neck rings styled after the Ndebele tribe from South Africa.
Okoye's neck rings are golden and thicker (there are only 8 of them). A choker necklace with beads radiates from under the neck rings.
On most Dora Milaje, these beads were simply bars, while Okoye's beads looked similar to upside-down ice cream cones (these special beads are likely a symbol of seniority).
The Dora Milaje also had rings on their forearms. In some photos, it appears these were made in 2 sections. Okoye also wears leather forearm covers under her arm rings.
The neck and arm rings were fastened with Velcro.
Cosplay Tips 👉
The Boots
The Dora Milaje wear leather split-toe boots that have a few silver rings at the top, and some silver anklet decor at the bottom.
The boots come up to just below the knee on most Dora Milaje, but Okoye's boots have additional leather over the front of the knee (and aren't decorated with any metallic rings or anklets).
Cosplay Tips 👉
The Waist Cape
Each Dora Milaje wears a red leather waist cape that has metal rings and clips decorating the edges. Okoye wears a suede cape that matches her tabard, which is a golden tan color.
The shapes of the capes suggest they were leather hides that weren't cut down to have straight edges.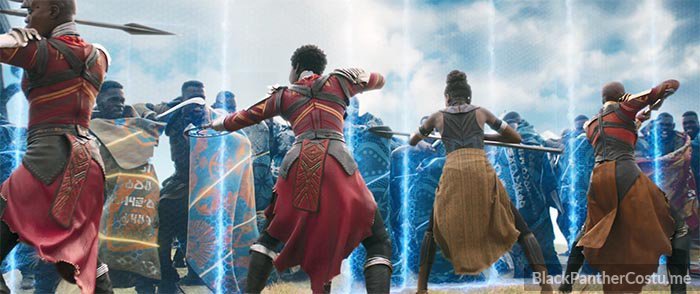 Cosplay Tips 👉
Coronation Uniforms
For T'Challa's coronation celebration and ceremony, the Dora Milaje wore a more casual uniform consisting of the following:
Bandeau Top
Leggings
Neck & Arm Rings
Sheath & Sash
Anklets & Sandals
Bandeau Top
The Dora Milaje wear an orange-red bandeau top that has a herringbone pattern.
Our best guess is that elastic bands were sewn into the top and bottom of the bandeau, as opposed to the whole bandeau being made of elastic fabric.
Okoye wears a beaded breastplate instead of the bandeau.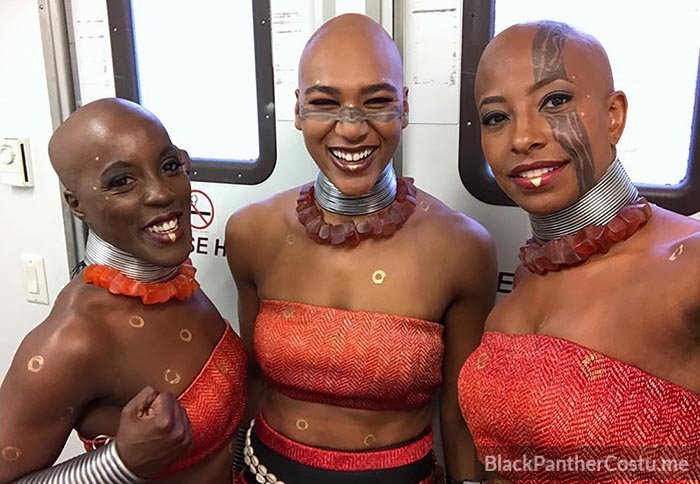 Leggings
Black, plain, high-waist, synthetic leggings with orange-red binding at the top.
Neck & Arm Rings
The Dora Milaje wear what appear to be their regular neck rings (with the exception of Okoye, whose breastplate also includes a beaded collar).
Beneath the neck rings are necklaces made of large, strung, cube-shaped red beads.
Sheath & Sash
A black belt with a sheath tied to the left thigh. The whole belt and sheath are outlined with cowrie shells.
A meshy reddish sash appears to be attached to the belt and covers mostly the right hip.
Anklets & Sandals
Colorful, festive anklets cover the bottom portion of the lower legs. The Dora Milaje appear to wear leather sandals with these outfits.
Tattoos
Several members of the Dora Milaje can be seen with head and/or face tattoos. Okoye has a full-scalp tattoo to set her apart.
From MovieMagic.In:
"She is the General of the Dora Milaje, so her tattoo was designed to look like a fighter pilot helmet," he recalled of Danai Gurira's costume.

Initially, it appears as though the tattoo was drawn on—a simple on-set practice. But, the pro revealed that its creation was challenging and time-consuming.

Deverill Weekes

"That was incredibly challenging," he continued. "You're dealing with tattoos that have to fit the curvature of a human head, which is round and has compound curves in it. It was a time-consuming and extensive application process and a combination of several tattoo application techniques."

You would need a background check to achieve the coloring of the tattoos in the film.

Going back to the movie's mantra of staying grounded within African tradition, "We wanted to take traditional tattoos and amplify them so they looked more modern," the makeup designer shared. "We played around with a variety of materials so that we could get them iridescent looking, so when the sun hit them they'd shimmer and glow, unlike a traditional tattoo."

On the set of Star Trek Beyond, Joel discovered just the product that would help him achieve the iridescence, but he would governmental permission to make it happen.

"It's a powder that the government uses to print our currency," he shared casually. "There's a prismatic powder that shifts through three color spectrums so it makes it more difficult to counterfeit….It's something you have to sign a lot of paperwork just to get a little bit of. You have to have a background check to make sure that you're not a counterfeiter."

Yet, in Joel's innovation-first mindset, it was necessary.

"We wanted to show that this is a civilization that's far in advance of anything we've seen before," he finished.

Mission accomplished!
Okoye in Busan, South Korea
For the nighttime Busan scene, Okoye is disguised and wearing a wig, along with a red dress, gold jewelry and high-tech, metallic gold, split-toe boots.
"I found an idea, and I developed the idea. Ryan wanted it to be the most vibrant red we could find, we tried a blue and an orange red. We drove around a parking lot with a stunt girl on top of the car, testing that dress over and over again to see if the skirt was going to fly up high enough. And I kept thinking, 'do we need wires or something?' because like, you visual effects people can do whatever you want, but the dress really performed. It was a practical effect! We had a girl from the Boston Ballet, who did ballet costumes and dance, make that dress so it would just fly." – Bleeding Cool
Cosplay Tips 👉
Busan: The Morning After
Okoye wears a Burberry leather woven trenchcoat. Costume designer Ruth Carter acquired the coat on eBay, as it was out-of-season.
The costume department couldn't find duplicates for the stunt team, so they photographed the coat and then printed the pattern onto fabric which was then made into replica coats.
Cosplay Tips 👉
Oakland, 1992
Two Dora Milaje arrive before King T'Chaka appears. Their outfits appear fit for the time period and don't seem to be very uniform or official.
Cosplay Tips 👉