Son of a War Dog, nephew to Ramonda, cousin to T'Challa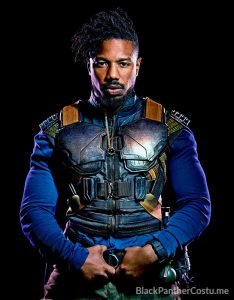 Museum of Great Britain Costume
Killmonger's jacket is an Amiri distressed shearling denim jacket.
Killmonger wears a long white t-shirt with black drop-crotch pants & Balmain boots.
Around Killmonger's neck are African bead necklaces. Killmonger's glasses are thin, gold-rimmed eyeglasses.
Cosplay Tips 👉
Michael B. Jordan's "museum bae" look immediately lit the internet on fire when Black Panther's trailer was released, but Carter says he could have been costumed very differently: In an earlier draft of the script, Jordan's Killmonger was an anthropologist, and Carter wasn't quite sure how to make that work. "When you think of an anthropologist, you think of a guy in a sport coat and slacks," said Carter. "And I was like, 'How is that going to work on Michael B. Jordan?' I couldn't get my head around it. And then Ryan Coogler was like, 'No, he's gotta represent the urban lifestyle, urban consciousness, and be unapologetic.

How Black Panther Crafted Erik Killmonger's Compelling Arc

The result is a distinctive look that incorporates a shearling jean jacket, Balmain military boots, and a couple of extra touches that thrilled Carter's director. "We gave him some drop-crotch pants because Ryan Coogler loves a drop-crotch pant," said Carter, who also added grills and glasses to the final look. "We've never seen Michael B. Jordan wearing eyeglasses like that! Ryan Coogler went to the moon every time he saw him in these glasses — he would just laugh. You could just see by the look on his face that he felt it was so right.

Killmonger's look throws off the other people at the museum, who fatally underestimate the man in front of them. "Security guards gather around him, because the silhouette is not necessarily normal to see on a learned man," said Carter. "They're making some assumptions about him based on his swagger and his urban style." What they don't realize is that his street fashion is as high-end as clothes get. "If we were to show them the price tag on all of his pieces, we'd be well into the thousands before we even got to the T-shirt," said Carter. "He's that guy who we see all the time where they have style, they have swagger, they have money in their pocket — and he is the direct opposite of Chadwick's character as a child. So that set you up right away for the hero and the bad guy. – Vulture
–
"He represents urban America and wears Balmain boots and drop crotch pants and jean jacket with shearling," added Carter. "Part of his past is military with tactical vest, pants, and jacket. There's so much Americana in his costume and it really does play him opposite of T'Challa. And they both end up wearing a Panther suit in the end. You can really latch onto any relationship: Biblical, mythological, primal." – Indiewire
Breakout Outfit
Blue ribbed boat-neck shirt
Armored tactical vest
Camouflage skinny moto jeans
Combat boots
Cosplay Tips 👉
Scarification
Erik "Killmonger" Stevens' scars took months to create.

In order to achieve the marks seen on Erik "Killmonger" Stevens' (a.k.a. N'Jadaka) chest, the makeup crew made each hashmark individually, starting months prior to filming.

Joel revealed, "It started with a body cast. We plotted out all of those hashmark scars on with a pencil and then take sheets of saran wrap and trace them onto those sheets and then transfer that onto a flat board, where we sculpted hundreds and hundreds of hash marks."

Once the silicon molds of the scars were complete, the team filled each one with a thickened glue substance. It took two to four days for it to dry in the mold, making scar creation a carefully thought out practice.

When it was time to apply the scars to actor Michael B. Jordan "Four of us, at three in the morning, were taking these sheet molds and pressing them on to Michael's skin and peeling them up, leaving those hashmarks on. Then, we blending them into the skin. It was like a three and a half hour process and then two hours at the end of the day getting them all off." – moviemagic
Cosplay Tips 👉
King Killmonger
Sweater robe purchased at H Lorenzo
Killmonger Panther Suit
Also known as the Golden Jaguar suit.
Cosplay Tips 👉