The merchant tribe is not represented by many members in Black Panther. There is the merchant tribe elder & one tribe member with her at the coronation.
Coronation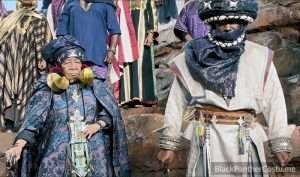 In this scene, the merchant tribe elder wears huge, magnificent Fulani earrings. Ethiopian crosses run down the front of her drape.
The elder & her warrior both wear turbans adorned with Tuareg symbols.
Her warrior is also wearing Tuareg styles with some Ethiopian crosses.
First Meeting
Killmonger Meeting