Queen of Wakanda, wife to T'Chaka, mother to T'Challa & Shuri
Landing Pad / Coronation Outfit
Costume Designer Ruth Carter went all-out to ensure she made a striking first impression. "I wanted to present an image that was the quintessential queen — hands down, no mistaking it. And I feel like when she's introduced, you know exactly who she is because she has shoulder mantle, this crown, and this big dress. Her silhouette is very, very much of the Queen of Wakanda." – Vulture
Hat: Queen Ramonda wears a 3-D printed Zulu-inspired flared hat, called an Isicola, which is a South African/Zulu married woman hat.
Shoulder Mantle: Queen Ramonda wears a 3-D printed, based on African lace. Flexible – easy to get on and off and allows for movement.
To give the hat and shoulder mantle a futuristic feel, Carter conscripted architect Julia Koerner, who is leading the way in making 3D-printed wearable art. "She is the queen of Wakanda and they are forward-thinking in technology, so her crown would have been crafted in the most forward-thinking manner," said Carter. "The triangles are perfect, the shape of the circle is perfect, and the only way you could achieve that is by doing it on computer and have it printed in a 3D printer." – Vulture

Ultimately, the outfit is one of Black Panther's most striking, mixing African tradition with cutting-edge technology and adding a dash of fairy-tale magic. "It's like you're a little girl, and you're being read a story where there's a queen and a king or a princess," said Carter. "That's how that image speaks to you." – Vulture
For the coronation, Queen Ramonda wears the same outfit, but adds white facial makeup.
Cosplay Tips 👉
Black Hat with Black Dress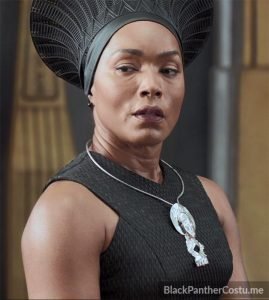 Cosplay Tips 👉
Killmonger Meeting
Black hat with purple dress.
Cosplay Tips 👉
Cut Scene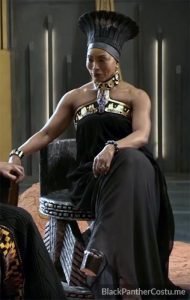 Cosplay Tips 👉
"RAMONDA: THE QUEEN OF WAKANDA
"This sketch illustrates our initial inspiration for the character of Ramonda, but we ended up losing the ropes in the design. We wanted to make Ramonda her own Black Panther Queen, so I looked for fabrics that had a sheen and a print, as well as fabrics that look like they have a tiny quilted pattern. I loved the idea of the designs of a 16th century Queen of England, but I really wanted her to be the Queen of Wakanda. This is the mother of Black Panther, so she had to have some strength herself.
"Eventually, Ramonda's costume was retooled. We made it out of fabrics that I felt were superhero-like, but she has a classic shape to the dress. At first glance, I felt like she needed to look unmistakably the queen, so she has a classic queen look. This kind of anachronism is important because she also represents tradition and the Wakandan past.
"We 3D-printed Ramonda's crown. We also 3D-printed her shoulder piece. I gave Ramonda this shape that you would see on royalty back in the 1600s and the 1800s. I love this look."
– The Mary Sue