The River Tribe is Nakia's tribe. The Elder wears a lip plate and ear gauges.
Lip plate is prosthetic that took hours to put on every day.
Coronation Outfit
Tan tribal warrior outfit with horned hat, cowrie-shell bordered shoulder sash, and flared sleeves.
Costume Designer Ruth Carters said that some of the pieces (like the shoulder patch) were from flea market finds.
Cosplay Tips 👉
Green Suit in First Meeting
Ear gauges were painted with motif seen on one of his outfits.
"This elder statesman of Wakanda (played by Isaach de Bankolé) may not get much screen time, but his look is unforgettable, one of Carter's savviest updates of African tradition and contemporary high fashion. "We wanted to connect him to his tribe by giving him his green color, and I remember researching the fashion designer Ozwald Boateng and he has a green suit that has this wonderful tribal print in it all over," said Carter. The Ghana-descended Boateng is one of Britain's best-known fashion designers, and Carter called him up in London to ask if he could adapt his suit for the film: "He said, 'The fabric is made in Milan and takes six months to hand-make it.' I was like, 'Seriously? I have two weeks!' So I just thought, Okay, let me just buy something off the rack." Fortunately, Carter found the Boateng suit in stores, and matched it with a shirt that's also from the designer. "Boateng has such an elegance to his clothes, and such a beautiful craftsmanship to the work," Carter said.
At the last minute, Carter continued to play with elements of the look: Originally, de Bankolé was meant to wear a tie, "but it felt too Western" and he was stripped of it on the day of shooting. One thing that never changed, though, was the elder's distinctive lip plate. "The lip plate is mainly used by African women, although men do adorn it, and the bigger the lip plate, the more prominence that you have in the tribe," said Carter. "Usually we see this lip plate in National Geographic on women with no tops who are sitting on the ground, and here he is with his legs crossed and a beautiful suit by the fashion designer Ozwald Boateng. He is bringing so much pride and so much honor to it." – Vulture
"Some actors had to submit their teeth impressions prior to coming to set.
The facial jewelry had to be one of the most mind-blowing details of the film. The thought of having such a wide plate placed into your lip would make anyone unexposed to the tradition cringe, even just a little. But, as such a beautiful tradition, Ryan wanted to include it.
"We borrowed heavily from the Mursi tribe of Africa for that look," the designer, with enough background to be a historian in his own right, said. "In their culture, they typically remove their bottom teeth so that the lip plate can fit in their mouth. Then, their lower lip is pierced and stretched around the lip plate."
To achieve the look, but ensure that it was temporary for actors, Joel's crew created their own way of doing it.
"We started that look by taking teeth impressions of our actors, and then sculpted that lower dental palette so that it looked like those front, lower teeth were missing," he revealed. "From there, we have a thin wire with a magnet on it. The magnet held a lightweight version of that lip plate. That's what kept it in place. It was a lot of work." – MovieMagic.in
Cosplay Tips 👉
Killmonger Meeting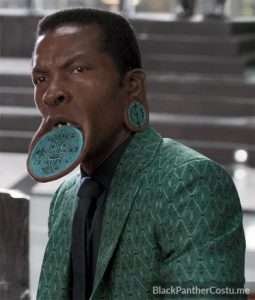 Cosplay Tips 👉
End Scene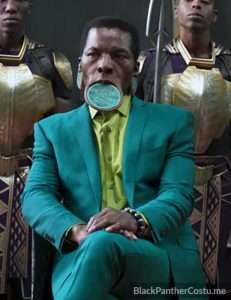 Cosplay Tips 👉