Shuri is T'Challa's sister and chief technology officer of Wakanda. Shuri wears quite a lot of outfits in the Black Panther film. It seems like she was the main outlet for costume designer Ruth Carter's creative indulgences!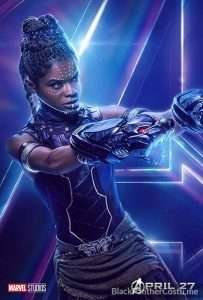 Landing Pad Outfit
Shuri wears a cropped raglan-sleeve blouse. Heather gray cotton jersey body, pink sleeves and cape (made of chiffon?). Zip-up closure on rear. Black polyurethane oval with Adinkra symbol hand-painted on, meaning "purpose."
Cowrie shell collar necklace.
Cosplay Tips 👉
Coronation Outfit
Shuri is uncomfortable in her traditional outfit.
The actors on set called her "MC Underbite" because of the jaw headdress.
Beads made from clay or paper.
Spear-corset inspired by Dinka tribe.
Cosplay Tips 👉
White Lab Dress #1
"Her first dress is a white dress and we created the front of it to be this cylindrical round shape — and I was trying to connect shapes within Wakanda so you see them repeat. It's the language of Wakanda." – NPR
—————————
As T'Challa's sister Shuri, Letitia Wright wears so many fabulous outfits in Black Panther that this article could easily be restricted to her eight best looks, but how fair would that be to the other characters? In this particular scene, the siblings' dress reveals key differences in their attitudes: T'Challa roots his look in tradition, while Shuri is a carefree innovator. That white dress she's wearing isn't just a beautiful garment, it's a high-fashion update of something the science-minded Shuri would be expected to don whenever she peers into a microscope. "I was faced with the challenge of the 'lab coat' and I felt like it was so cliché," said Carter. "Any time someone says, 'We're in the lab,' people go, 'Well, get the lab coat!'"
Instead, Carter fashioned this strapless dress and gave it a mesh overlay that subtly suggests a lab coat and also feels like something that Shuri would have invented herself. "There's a wavy pattern in the texture of the mesh so it's not just a normal fishnet," said Carter. "I love the idea of presenting fabrics that are appealing and subtle and look like they could have been recycled, and I thought that was so perfect for Shuri. That this is Wakanda, and they're very eco-friendly, and they care about their country and their environment. She would be the one that would figure out a way to create a vibrant fabric that was a result of recycling." – Vulture
Cosplay Tips 👉
Mesh T-shirt
During this scene, Shuri helps drive T'Challa's car, remotely.
White Lab Dress #2
Cosplay Tips 👉
Red Scuba Vest Outfit
"At this point, I knew our time was drawing to a close with Ruth, so I asked a question I've had since the first images of Princess Shuri in an orange-red vest had been released.
"That brilliant orangey red vest that Princess Shuri wears is very similar to something that comic book character RiRi Williams wears when she takes over the Iron Man mantle-
"WOW!" Ruth exclaimed.
"Was that intentional maybe? Because we know that Robert Downey Jr. has pretty much confirmed that he's done after this round of Marvel movies, and wouldn't Shuri just be the most badass Iron Man ever?" I continued.
"WHAT. WOW. Wouldn't she though? I'm just saying. She was so funny and so good. At first the DP didn't want that orange vest, because it was so bright. So we made a dull one and I was just like [dejected sound] ugh. And so Letitia Wright said 'You have to fight for it, Ruth' and so I was like 'ok! I'm gonna fight for the orange!' and I'm so glad I did. It looked so pretty. And I'm influenced by modern fashion, and I had so many tearsheets. Gareth Pugh who's very futuristic with his designs, I love Rick Owens, so that vest probably came from some of that research."
– Bleeding Cool
"SHURI: THE ORANGE OUTFIT
"It was a big challenge for me to come up with a wearable lab outfit that would fit the character of Shuri. She's the young designer genius of the Wakandan Design Group and she's very forward-thinking, so I don't see her wearing a standard lab coat. At first, I started to poke around at some of my favorite designers. I looked at Rick Owens, Gareth Pugh and Stella McCartney, because I feel like they are always thinking ahead and they are always coming up with ideas that are very unconventional. I was heavily inspired by Stella McCartney's ability to recycle fabrics, and the idea of taking recyclable materials and creating new fabrics—and that's when I decided that Shuri's lab look should be a simple dress with an overlay.
"I decided that the overlay would a type of material that is protective, cool and fun. I felt like it should look like it was made from recyclable fabric or recyclable materials. The first dress we see Shuri wear is a white dress with a mesh overlay. Overlays look like they are protecting the fabric that's underneath, or they create a story of their own, so most of her costumes have these protective layers.
"When we see Shuri in her orange and white outfit, the overlay is an organza-looking fabric because you can actually see through it. It has a long zipper at the back and it's shaped like a sweatshirt, so her sweatshirt overlay is part of what gives her the protection. When it comes to the leggings in the orange outfit, we were trying to come up with a fashion idea for Shuri. We ended up using a jumpsuit that had stitching lines in it. As a matter of fact, I found a jumpsuit online and the stitching lines looked like a panther face. It was a black jumpsuit with flared legs, but we ended up cutting the jumpsuit so that it would have a straight leg design. If you look at stills from the movie, the white stitching on the jumpsuit is amazing. I mimicked the lines in the orange vest that she wears. The vest is made of neoprene, which is a fabric that we use a lot when we're thinking of future fabric."
– The Mary Sue
Cosplay Tips 👉
Final Battle Outfit
Cosplay Tips 👉
Cut Scene: Silver Dress
"SHURI: THE SILVER DRESS
"When we first meet Shuri in the movie, we learn that she is bored with tradition. She designs the new Black Panther suit and she's the head of the Wakandan Design Group, so I knew it was important that we really try and think outside the box for the character. Not only did we need to think outside the box in terms of what Marvel was doing with nanotech and vibranium, but we also needed to contextualize what it meant and what it looked like to be forward-thinking.
"When we see Shuri at the airstrip, she talks to her brother and he teases her about having to wear a traditional costume at Warrior Falls. Then, when we see her at Warrior Falls, she says, "Can you hurry up, people? This is very uncomfortable." I feel like that [dialogue] allows audiences to understand the character. She's saying, 'I know I am a princess and I know there's a place for tradition, but I'm moving on from that.' She also tells that to everyone when we first meet her in the lab, too.
"All these costume sketches give a general direction and a feeling for the characters. With Shuri, we wanted to show designs that feel young and vibrant. I really wanted her to have vibrancy and freshness, and pop colors. There's an interesting story behind the silver dress. We never get to see the dress in the movie because it was designed for a very specific scene, which was cut. However, we had already designed the silver dress with silver leggings."
– The Mary Sue