T'Challa, son of T'Chaka & Ramonda, brother to Shuri, and King of Wakanda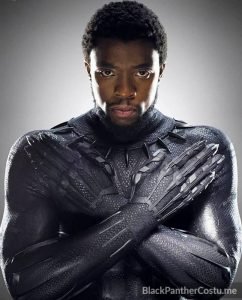 The Black Panther Suit
There were 4 Black Panther suits in the Black Panther film. The first was T'Chaka's suit in Oakland in 1992. The second was T'Challa's suit from the film Captain America: Civil War. Later in the film, Shuri introduces T'Challa to his new suit, which has a triangular pattern and purple digital veins. The fourth panther suit was worn by Killmonger and is sometimes referred to as the Golden Jaguar.
The Civil War Suit
T'Challa wears his Civil War suit in the beginning of the film, during his trip to extract Nakia from her Nigerian spy mission.
The suit can be identified by its basket-weave texture, and chevron designs on the chest. The silver teeth on the collar have a silver ring connecting them.
Cosplay Tips 👉
The New Suit
The New Suit is worn by T'Challa during the Busan chase scenes and during the final battle between T'Challa and Killmonger.
"Nowadays, every superhero suit seems to have a small pattern that creates a texture on their suit, so I was excited that there was an opportunity for me to include a surface treatment to Black Panther's suit. Within the design, you can see some veining of a Wakandan language that circles around the suit—but I put a small triangle in between the line-work. I call it the Okavango pattern. The Okavango print, in combination with the veining, helps the piece feel like the roller prints you see in so many African patterns and printed fabric. Now, he's not only a superhero, but he's also an African king.

"The costume is actually a true catsuit. There are separate gloves and boots, but the suit itself is a catsuit that Chadwick [Boseman] wears. There is a silver muscle suit that goes underneath it, which makes it look like you can see the vibranium shining through. That's why we made the muscle suit in silver. After viewing the Man of Steel, I saw that you could see the steel suit underneath his superhero costume, so the muscles look like they are made of steel. I thought to myself, 'Well, Black Panther's main suit is made of vibranium, so let's do that.' There's a hidden zipper that goes straight up the back of the costume. You put it on just like you would put on a pair of pantyhose. You've got to move it up and wriggle into it. We also added a zipper to give Chadwick the ability to go to the bathroom."  – The Mary Sue
How superhero suits are made:
"Marvel's design group—who work on all the superheroes—sent us a sketch for Black Panther's superhero costume. That's what we used to create our piece. The superhero costume is made from eurojersey, which has a four-way stretch. The fabric comes to us in white, so we have to completely dye it black and then we print on top of it—but the ink of the print also has the ability to stretch." – The Mary Sue
Cosplay Tips 👉
Coronation / Challenge Outfit
For the coronation ceremony, T'Challa wears nothing but a loincloth and clay makeup. The loincloth appears to be black shorts with purple designs hand-painted onto them. There is a waistband and a tabard on the shorts made of a purple fabric (that almost looks like black fabric with purple paint dry-brushed onto it). Both the waistband and tabard are bordered with gold beads. The waistband has a few gold-colored metal disks sewn onto it, as well as some fang-like pendants along the top bead line.
The clay makeup consists of 3 gray lines on his face, and a mantle of gray clay with a leopard pattern in white and black.
During the challenge with Killmonger, T'Challa wears the same loincloth, but doesn't wear the makeup.
T'Challa carries a Zulu umbumbuluzo cow-hide shield.
Cosplay Tips 👉
Ancestral Plain Robe
White Robe

On the astral plane, T'Challa wakes up to greet his father and their ancestors in a white embroidered tunic. All the embroidery patterns were taken from various cultures around the world. I've had people from Pakistan look at the embroidered pattern on the white tunic and say, 'Wow, this looks exactly like the embroidery in our culture.' In that sense, I feel like the dream sequence is one that most people were thrilled to see because it relates to so many beautiful embroidered patterns in different cultures. It represents royalty that you find all over the world. – The Mary Sue
Cosplay Tips 👉
Around Wakanda
Black outfit with sandals

"For T'Challa, Carter created a cutaway coat based on 18th-century designs and embroidered the front panel and sleeves in a Nigerian style. "I wanted him to have this look of a king and also a military leader," said Carter. "He has that Wakandan kingly drape that moves around very elegantly, and we see it on him early, when he's walking with Nakia through the town. Everyone else around him is dressed in full-out colors and Afropunk, and it separates him and presents him as the king."

T'Challa's style also makes him a frequent target for his irreverent sister, never more so than when Shuri mocks his sandals by exclaiming, "What are those?" Turns out, they're luxe Alexander McQueen shoes with a backstop added by Carter. "Everybody laughs at that sandal, but I'm on his side!" said Carter. "I knew it was a part of the joke, but I didn't pick a sandal that I felt was funny. But it did work. Everybody laughs when they see that sandal. I'm like, 'What's wrong with it?' I can't figure it out." – Vulture
Cosplay Tips 👉
Busan, South Korea Outfits
Black Dress Suit
Cosplay Tips 👉
Black Hoodie Casual
Cosplay Tips 👉
Night Visit with Zuri
T'Challa wears a zip-up black robe that he later wears with the purple/indigo vest.
Cosplay Tips 👉
Killmonger Meeting Outfit
Zip-up robe but with indigo cloak
"Most of T'Challa's costumes have some form of cultural significance to them. The purple vest that he wears has a little Nsibidi language on the vest. We painstakingly chose the embroidery pattern with help from [Black Panther director] Ryan Coogler." – The Mary Sue
Cosplay Tips 👉
Risen from the Dead
Cosplay Tips 👉
Back to the Step Down District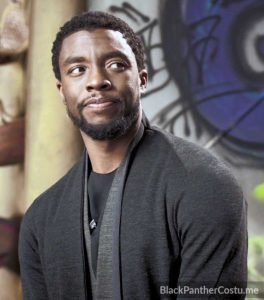 Oakland Visit
Deleted Scene